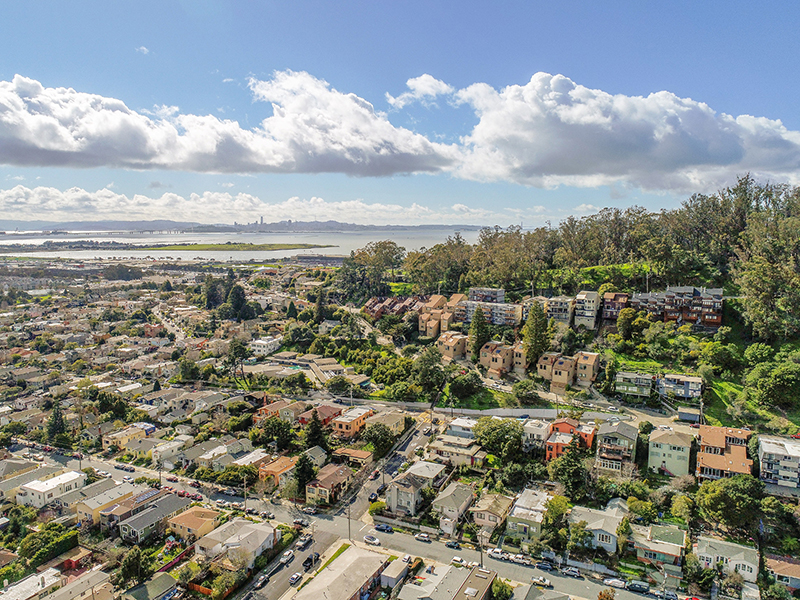 Albany is a city on the east shore of San Francisco Bay in northwestern Alameda County, California. The population was 20,271 at the 2020 census.
Albany has a history of real estate discrimination, which made it difficult for non-white buyers to acquire property and build homes in Albany.
Albany is located on the eastern shore of San Francisco Bay, bordering the city of Berkeley to the south and east, and the Contra Costa County cities of El Cerrito and Richmond to the north. Albany's northern and southern borders are defined by two creeks, Codornices Creek on the south and Cerrito Creek on the north. Cerrito Creek takes its name from "El Cerrito de San Antonio", now known as Albany Hill. The hill's unusual location near the bay shore makes it a prominent landmark in the East Bay. The rest of the city is relatively flat by Bay Area standards, except for a small area near the base of the Berkeley Hills.
Albany's waterfront has undergone significant man-made changes; the most prominent landform is now the Albany Bulb, a former garbage landfill jutting out into San Francisco Bay. The bulb was the site of a small art colony and shanty town until it was cleared to turn the area into part of the new Eastshore State Park.

Sorry we are experiencing system issues. Please try again.